A walk around the Quiraing
In this section we go on an adventure around the weird and wonderful landscape of the Quiraing, a landslip area of pinnacles and gullies
Key questions
What is the Quiraing?
Can you plan a walking route around the Quiraing using an OS map?
What is the Quiraing?
The Quiraing, a fascinating landscape on the Trotternish peninsula on Skye, results largely from geomorphological processes resulting from gravity. The whole of the Trotternish Ridge escarpment was formed by a great series of landslips. The dramatic Quiraing which is the largest landslip in Britain, with five stages of movement identified, extends to a width of 2km from the scarp slope to the coast. Some sections of the landslide are still active as evidenced by the need for regular repairs to the local road.
The landscape has a number of distinctive features which have earned specific names The Needle is a jagged 120-foot high pinnacle to the northwest is The Table, a flat area that has slipped down from the plateau whereas to the southwest is the Prison. Trotternish is probably the second most popular visitor location on Skye after the Cuillin Hills the next most visited part of Skye with stunning scenery at the Quirang making it popular with walkers and photographers.
The geology of the Trotternish peninsular consists of Jurassic sediments, clays, shales and sandstones overlain by thick lava flows. The rocks dip gently westwards, creating gently rising slopes from west to east however these are cut by faults running N-S along the peninsula. The landslides were formed due to the overlying weight of the lava flows approximately 300m thick, weighing down on the weaker Jurassic sedimentary rocks. Under the pressure, the Jurassic rocks sheared along the N-S faults and huge lava blocks slid seawards along a rotational glide plane. A steep scarp slope is found on its eastern margin.
Links
Starter
View of the Quiraing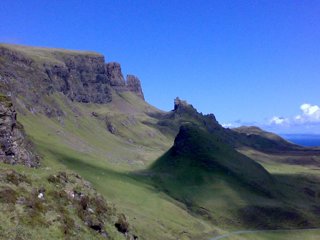 © Stewart Cutler
Can you suggest how it was formed?
Do you think it was formed as the result of:
Volcanic eruptions

Earthquakes

Coastal erosion

Landslips
Main Activity 
Read a description of a walk around the Quiraing.
Plot a route around the Quiraing on an OS map. You can get a map by going to the Ordnance Survey getamap service and typing in the following grid reference into the search box and printing: NG452691
If you get stuck or need a clue you can see a route.
Create a route card of your planned walk.
Plenary
Try and locate the photographs below on your map.
Write down which direction the camera was facing when the pictures were taken.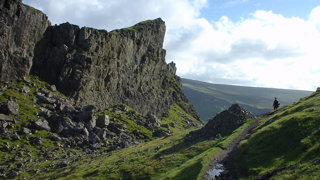 © Stinging Eyes / Flickr