The Earth as art
Can satellite images be interpreted artistically?
Key questions
Can satellite images be interpreted artistically?
Can satellite images be interpreted artistically?
Artists have long been inspired by the World around them, from Constable's paintings of the English Countryside, Turner's famous paintings showing the roughness of nature, with bleak landscapes and violent storms to Lowry's depictions of Industrial Britain. But with the advent of satellites and the imagery they capture from Space the Earth can be now be observed, artistically or otherwise, from a wider range of scales. 
Links
Starter
In the gallery below is an example an Artwork Earth image.
Can you think of a  caption to accompany the image?
Look at some other earthwork art that students have produced on Flickr and browse USGS's Earth as Art Gallery.
Main Activity
Go onto Google Earth, fly around and try to find your own artistic images of the Earth. 
If you do not have Google Earth, use Google Maps (using the 'satellite' mode) or the NASA Earth As Art site.
Add your own caption to your chosen image using the Flickr Motivator web site.
Write a piece of fictional writing about your image.
Choose your favourite images from the whole class, identifying the reasons for your choices and read the pieces of creative writing whilst projecting the artwork on the whiteboard or screen.
You could also research more information about your chosen landform.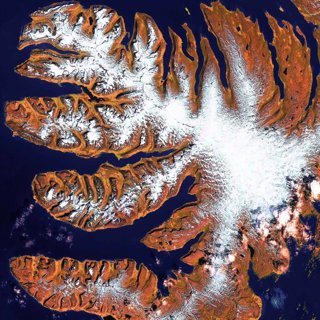 © NASA
Artwork Earth example
For example for the image above from NASA Earth As Art site.
Where is it?
It is the West Fjords, a series of peninsulas in northwestern Iceland. They represent less than 13% of the country's land area, but their jagged perimeter accounts for more than half of Iceland's total coastline.
What is it?
A fjord is a long, narrow estuary with steep sides, made when a glacial valley is filled by rising sea water levels.
Where are they found?
They are found where a glacial valley descends to the sea. They can be found mostly on west coasts, in Europe, North America, New Zealand and South America.